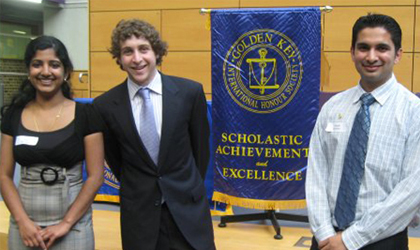 HOW TO JOIN GK
*Golden Key's lifelong membership fee is $95.00 (incl. GST). The Society's Annual Report can be found here.
GKIHS ABN: 65060061903.
For Students from the University of the Sunshine Coast :
Golden Key International Honour Society is the largest and most active academic honour society in the world with chapters established at over 380 universities and colleges around the world. The Society's mission is to enable members to realise their potential through the advancement of academics, leadership and service.

Golden Key membership is available to the top 15% of undergraduate and postgraduate (coursework) students from across all disciplines. Benefits of joining Golden Key include:
Personalised certificate, recognising your academic achievement;
Access to over $600,000 in scholarships and awards annually;
Exclusive access to Golden Key's candidates database "GK-Unlocked" and be headhunted by corporate employers (commences August 2010);
Networking opportunities with Golden Key members locally, nationally and internationally;
Participation in Golden Key's Leadership Development Program and being part of a vibrant student chapter on campus;
Access to member only conferences and summits, including the Asia-Pacific Conference 2011 at USC;
Access to online personal and professional development programs including, GK Financial Literacy Program and the Careers Library powered by Vault.com
Eligibility
Undergraduate students at the University of the Sunshine Coast with a GPA of 6 or better in their studies over the last two semesters are now eligible to join Golden Key.
Postgraduate (coursework) students with a GPA of 6 or better in the last semester of studies are eligible to join Golden Key.

If you believe that you are eligible to join Golden Key, email us at aphq@goldenkey.org and attach a screenshot of your Unit of Study Results.

If you are enrolled in an honours, masters, postgraduate coursework or postgraduate research program with an entry requirement of GPA of 6 or better, please supply Golden Key with a screenshot of your enrolment status.
If you would like to join Golden Key or to find out more, please contact us at aphq@goldenkey.org.   More information can also be found on our website at www.goldenkey.org.
*Golden Key International Honour Society - Asia-Pacific is committed to complying with its obligations as set out in the Australian National Privacy Principles (extracted from the Australian Federal Privacy Amendment (Private Sector) Act 2000) and respects your right to privacy. We collect and use personal information to assist members and/or potential members to provide membership benefits, to provide information and services to conduct our business operations in the interest of our members, including information notices, news, events and membership related activities related to Golden Key and including local Chapter functions, and authorize Golden Key in that regard. Golden Key does not divulge data to third parties.